I have tremendous respect for authors.  I sometimes think I have a book inside me that I could write.  I know I have a lot of words inside me trying to get out every day.  Just ask my wife…or my store staff.  I'm a talker.  And I do like to write short pieces.  But when it comes right down to it, I'm not sure I could write an entire book.  But being around books all day, I do think I could come up with at least some clever titles.  I could name the book…that much I could do.
We carry a series of children's books in our store that have been popular since 1942.  Seventy-six years!  You probably had some when you were growing up.  They're called Golden Books.  Does "The Poky Little Puppy" sound familiar? Published September 19, 1942!  "Scuffy the Tug Boat," "The Shy Little Kitten," are titles that followed.  Today you can find Golden Book titles that include Star Wars, Sesame Street, Aladdin, Guardians of the Galaxy, many Disney stories, and on and on.  The list of Golden Books is huge!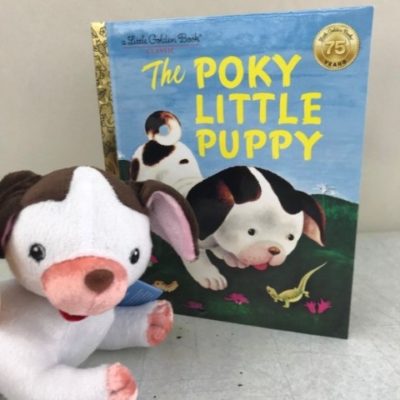 So what's in a name?  I imagine a group of folks sitting around a table one day back in 1942.  Maybe it was just two or three people.  Trying to decide on a name to start publishing these kids books under.  They talk for a bit, until someone says, "You know, I love spending time with my grandkids and reading them stories.  Those moments are so special.  They are wonderful.  They are…golden moments!"  Perhaps before she can say much more, there are heads nodding in agreement, and someone says, "Hey!  How about Golden Books?
I don't really know where the name came from.  But moments with children are golden, and all the better if one of you has a book in your hand!  Imagination, learning, and adventure all live in our books!  So what's in a name?  Well, we carefully choose names for our children when they are born…it's important.  And I have to believe that the name Golden Books was also carefully chosen.  All I can say for sure is that since 1942, I'm confident there have been a lot of wonderful golden moments with Golden Books, made all the more special when a parent or grandparent is there, sharing the book with their child!

Michael Beagan